Why You SHOULD Floss
Recently, there have been some loud cries from the publishing world on the fact that flossing is no longer deemed beneficial. These articles taut several studies that flossing is not beneficial, contrary to what the dental community like the ADA and the American Academy of Periodontology have to say. The American Dental Association's website states "Cleaning between teeth with floss and the use of other tools such as interdental brushes is an important oral hygiene practice and, along with professional cleanings and tooth brushing, has been shown to disrupt and remove plaque", the U.S. Department of Health and Human Services said in a statement in August 2016. The American Academy of Periodontology states "The American Academy of Periodontology recommends daily flossing as one part of a regular oral hygiene routine, which also includes brushing your teeth twice a day and ensuring you receive a comprehensive periodontal evaluation every year".  News out of our own dental school at the University of Buffalo in Buffalo, NY, and former professor of Dr. Altman's, Sebastian Ciancio, the chairman of the department of periodontology, stated "Gum inflammation progresses to periodontitis, which is bone loss, so the logic is if we can reduce gingivitis, we'll reduce the progression to bone loss", when quoted for a recent NY times article on the toppic of why you should floss. Severe periodontal disease is a slow, progressive disease, and may take five to 20 years to develop. Short term studies therefore miss the mark in looking at the long term benefits of flossing.  Since the majority of the population is non-compliant with flossing as it is, finding an appropriate study population is also difficult.
As a dental professional, we know that flossing helps remove unwanted debris that can get trapped between your teeth. It also helps to remove unwanted bacteria. All of these things can lead to inflammation, and inflammation can lead to periodontal disease and tooth recession. Dr. Altman and Dr. Muto, as well as our entire hygiene department, feel strongly about flossing. We have nothing to gain by encouraging you to lead a healthier life, other than helping you lead a healthier life (which we feel rather strongly about). Gum disease can further worsen existing conditions like heart disease, as well as lead to tooth loss.  Losing your teeth decreases quality of life, and leads to additional expenses. So PLEASE disregard this latest burst of flash journalism, and continue to floss!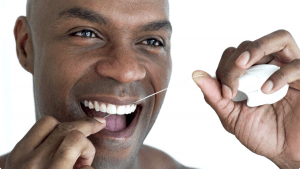 For more information from the experts, please visit the American Dental Association as well as the American Academy of Periodontology for their statements regarding the recent news arguing against the need for flossing. If nothing more; flossing does no harm. If you are worried about the recent news, do yourself and your mouth a favor and aire on the side of caution. There are no negative side affects to flossing, only positive ones. And we all know-it's not all that pretty to have kale stuck in your teeth (it's much better in the gut!).
Dr. Altman on Why You Should Floss!
Questions on why you should floss? Worried about periodontal disease or gum inflammation? Give us a call and we can schedule you for a consultation at Altman Dental! (716)831-8018