Pediatric Dentistry at Altman Dental
At Altman Dental, we are a whole family practice. We see children from ages 2 on up. At the age of 2, we get kids familiar with the office, let them ride on the chair, and do a basic check. If the kids are receptive, we will begin hygiene visits at this time.
We believe in prevention! Teaching kids and parents to prevent dental decay is paramount to developing a healthy body.
Scheduling bi-yearly visits to have routine hygiene cleanings and check ups. At these visits we teach kids how to brush and floss their teeth properly. We help kids at each visit with proper techniques, and advise parents on areas of concern at each check up.
First bite wing (cavity checking) X-rays are done at the age of 5 years of age.
First Panorex X-ray (full mouth) is done to check the positioning of permanent teeth at the age of 6. This will also look for congenitally missing teeth in the mouth.
When the first 6 year molars erupt, we recommend getting sealants on children's molars. These prevent dental caries (cavities).
Most schools require a dental check prior to entering Kindergarten. Our office provides school forms to be submitted after checkups.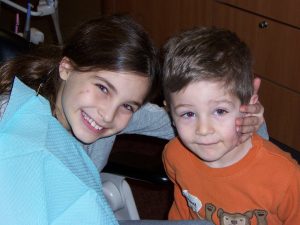 Give our office a call to schedule your family's pediatric dental visit, as we love to see our patients grow up in our office!
**We also create custom mouth guards for sports! As your kiddos age, it's important that their teeth remain protected on the field too!