Cost of A Dental Implant
Many people have become interested in dental implants.   As greater advances in durability and appearance have occurred, use of dental implants has spread. A dental implant is a great alternative to having a bridge or an empty space where a tooth has been pulled. When teeth are removed from the mouth, shifting occurs, and this can lead to bone recession as the patient ages, as well as increased risk for periodontal (gum) disease. Implants help to maintain the bone health and structure, increasing the longevity of a patient's dental health. Not only does it boost dental health, a dental implant is also a more attractive and functional alternative to losing a tooth. That being said, they are not for everyone.  At Altman Dental, we do not recommend the use of mini-implants. While less expensive, they have been shown have a MUCH shorter lifespan, and have greater chances for failure (Source).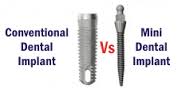 The first thing many patients ask us at Altman Dental, is what is the cost of a dental implant?  There are many different answers to that question, and factors that influence the cost of your dental implant treatment.
Factors that influence if a patient is a good dental implant candidate are:
Is your bone health strong enough to hold the implant in place? Before recommending a dental implant to a patient, we first evaluate their jaw structure. If there is not enough bone present under the area where the implant will be placed, the patient isn't a candidate for the procedure. Periodontal disease plays a part in this evaluation.  We will not perform procedures on patients unless we feel confident that it is in their best interest.
Certain systemic conditions that may impact healing: There are certain health considerations that must be taken into account. For those patients who have difficulty healing from surgery, implants may not be the best course of action for them.
Greater risk of failure of dental implants can occur if the patient is a smoker. (See this research)
Cost of A Dental Implant
A dental implant can vary in price. Depending on where the tooth is located, an implant can range from $4000-5000 once treatment is completed. The best course of action is to give our office a call, and we can evaluate you.  Once evaluated, we will provide you with a treatment plan, and a cost breakdown. At Altman Dental, we never allow you to be surprised about what treatments we recommend, or the cost to you, the patient.
Our number is (716) 831-8018, and we look forward to helping you make the best decision to meet your needs at our office in Williamsville, NY!
SaveSave
SaveSave