National Watermelon Day and Dental Health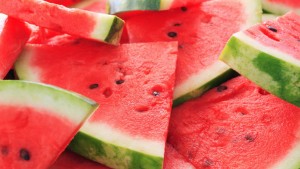 National Watermelon Day!!! We LOVE watermelon. It's cold, refreshing, and packed with hydrating water (hence the name).  Now-there's more reason to love and eat watermelon.  Move over tomatoes-watermelon out-ranks tomatoes in their lycopene content! Lycopene is a carotenoid pigment, and is a phytonutrient that's especially important for our cardiovascular health. Increasing number of scientists now believe that lycopene is important for bone health as well, making it great for dental health as well. The redder the watermelon, the higher its nutrient content (as all fruits and veggies are highest in nutrients when they're ripe). The rind of the melon also contains valuable nutrients, so be sure to bite into the white-greenish flesh when munching!
Health Benefits of Watermelon:
Many feel that watermelon's high sugar content discounts its health benefits. However, this fear is unwarranted.   1 cup of watermelon contains 16% Vitamin C needs for the day, and really, who only eats one cup-right?!  Scientists have found red watermelon to contain over 600 micrograms of beta-carotene per 3.5 ounces of melon and over 6,500 micrograms of lycopene (source), and 170 mg of potassium (good for kidney, heart, and nervous system function).  Lycopene has been found to boost bone health, and therefore helps in dental health as well. Healthy bones help to anchor and hold those teeth in your jaw, so eating as many different kinds of antioxidants from fruits and veggies is great for dental and overall health.  Watermelon contains amino acids which help to boost the body's ability to create Nitric Oxide, a chemical that helps dilate blood vessels, and thereby reduce blood pressure.  Trying to lose weight?  Watermelon contains only 46 calories per 1 cup! That's right-46! Made up 92% of water, watermelon is a refreshing snack that does not contain a lot of calories, and can easily take the place of fake-sugary foods as a dessert or sweet treat.  Those who worry about consuming watermelon, do not understand the benefits of eating whole fruits. They are hydrating, filling (due to their fiber content & water content), satisfying, and contain no added junk. No sugars, fats-just pure fresh summer nutrition.
So how do you like to prepare your watermelon? 
Slices
Cube some watermelon and mix with fresh mint or basil
Drizzle watermelon with a reduced balsamic vinegar for a fancy, easy dessert
Puree some watermelon and add juice to some seltzer water, fresh lime, and mint for a refreshing non-alcoholic beverage